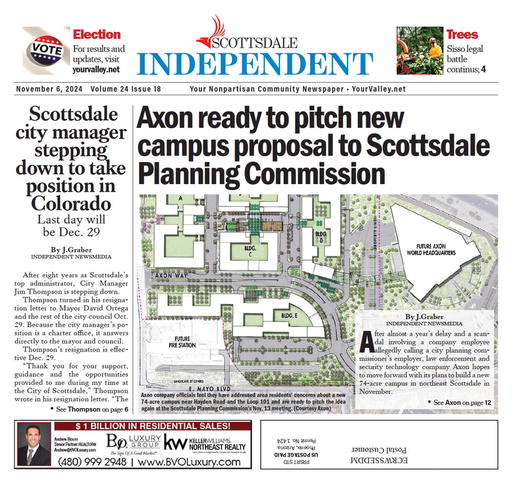 The Scottsdale Independent is the only local monthly newspaper devoted entirely to covering the local news of Scottsdale, Arizona, one of the most desirable, popular and attractive communities in the Southwest. Editorial coverage is concentrated on neighborhood issues, schools, local government and, of course, the myriad events and activities that make Scottsdale a great place to live and visit!
Website
Visit us online at scottsdaleindependent.com
Social media
Follow us on Facebook or Twitter.
Email newsletter
Subscribe to our FREE daily news brief to get headlines delivered to your inbox.
Digital edition
Read our FREE E-Newspaper, a digital replica of the print edition.
Print edition
The print edition of the Scottsdale Independent is published monthly and direct-mailed the first week of every month to 75,000 homes and businesses in Scottsdale ZIP codes 85266, 85262, 85260, 85259, 85258 and 85255.
Contact
Address: 23043 N. 16th Lane, Phoenix, Arizona, 85027
Phone: 623-445-2777
Email us: Visit our contact page for a complete list of email contacts.
Delivery questions or problems? Send e-mail to our customer service team.
Advertising
Classified Advertising: FREE online classifieds. No limit on the number of ads. Up to 400 words and four photos free. Many options to upgrade your ad or publish in print. You can submit your ad online or send email to our classified team for more information.
Display advertising: Send email to our sales team or our billing team, or download a rate card for information about the Scottsdale Independent.
Archives
The Scottsdale Independent's online archive contains staff-written and other selected articles from 2008 to the present. Searches are free. You may purchase individual articles for $2.95 or select a package for multiple articles.